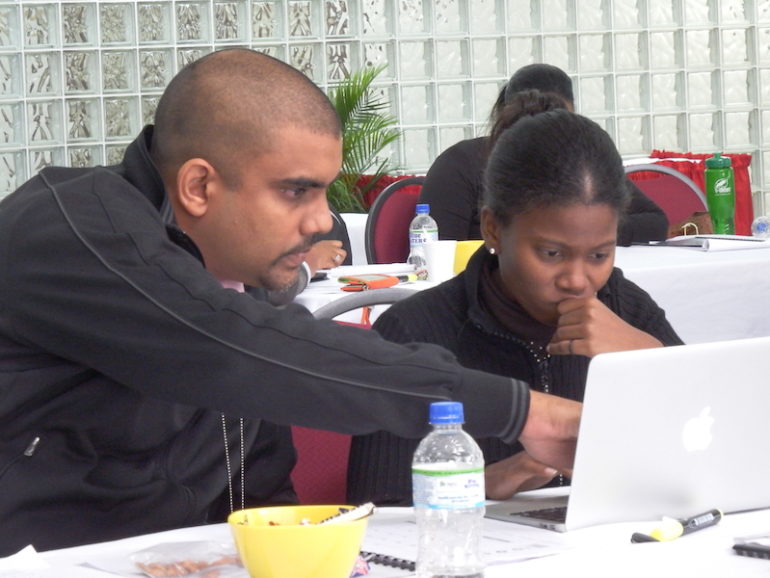 See those name tags in the photo above?
"Branded Conversations: Writing & Creating Content for Social Media Marketing" brought these energetic communicators together on May 13-14, 2014.
They came from companies, such as Angostura, Guardian Group, First Citizens, eTecK, NGC, and prominent advertising agencies.
People spent lots of time brainstorming new ideas, developing their brand's content strategy, writing, and critiquing their brand's social media posts to increase their ability to trigger action from audiences.
Look at how focused they were. Photo by Joshua Ramirez-Wharwood.
If you missed Cycle 1 of "Branded Conversations", we're hosting another one on June 24-25. Get more info here >>
In the meantime, here are some takeaways you can use for content marketing in Trinidad and Tobago's context.
1. Build your content strategy around people.
Technology changes. Humans? Not so much.
Social media marketing isn't just about nice aesthetics and new platforms. Social psychology places a huge role. Align people's needs with your brand's purpose and business objectives.
Your content becomes valuable when your target audiences decide it's valuable. Figure out what's valuable to them. Find that common ground between what you're trying to achieve, and what they want.
You should also align your content's objectives with why people use certain social media channels.
2. Audit your content.
You want to avoid spending a large budget on ineffective social media and content marketing. Audit your content and your content creation processes. See what's working, and what isn't.
Ignore your ego, and ask yourself questions like:
If I didn't work at this company, would I care about our post?
Is our content meeting customers' needs? Is it helping them?
Is our writing boring?
When I click the link in our Facebook post, and I visit the website, does the website encourage me to take certain steps?
Would our content be more appealing in a visual format?
Do our production workflows make sense?
Do we even have a regular schedule?
Is our strategy making sense?
Is our strategic plan really strategic, or is it just a to-do list?
Continually assess yourself.
3. Create targeted content for buyer personas.
Stop saying that your audience is the general public.
That's not specific, and it doesn't enable you to create content that makes people feel something, or act a certain way.
I know you want to reach every Trinbagonian in Arima, Icacos, Woodbrook, and Scarborough. But you've got to segment them, and phase how you nurture prospects, leads, influencers, advocates, and customers.
Develop buyer personas that help you to imagine what a prospect or lead goes through on a daily basis. Imagine what their concerns might be, and who impacts their decision-making. Connect your content to their lifestyle, needs, and routine.
When you're writing, write for a specific persona. It will help you to create content that targets the audience you want.
How can you hook target audiences when you use a general approach for everyone?
4. Don't write in taglines and slogans.
Some of us have been programmed into writing everything as a tagline – e.g. "Want more, Do more". But we should be writing in plain English, that is, telling customers exactly what we mean.
So "Want more, Do more" for First Citizens, Republic Bank, Scotiabank, Island Finance, or RBC might mean that if you open a business account with my bank, you can do a bunch of transactions online that the other banks don't facilitate… or our processes make it easier for you to open an account to start running your business.
Read your sentences at least three times, and ask yourself"
"Would I even bat an eye at this, if I were the customer?"
"If I were the customer, would I understand exactly what I mean, or do I have to figure out what I'm trying to say?"
Don't make people have to figure out what you mean. Slogans sound nice, but they don't always deliver meaning.
5. Develop content themes.
Know the issues that your brand can stand behind.
Know the themes that audiences will connect with.
Know what types of content you're going to use in different social media channels to communicate these themes. This will guide what you produce and curate.
–> This will also help you when you're posting content on the fly.
Since your themes are aligned to your content strategy, your content marketing will be consistent and cohesive, allowing your brand purpose and personality to develop with each piece of content you publish.
Aligning your strategy, buyer personas, content themes, and brand personality helps to clarify your position, amidst the noise on social media networks.
The point is to lead people to your brand, when they want to find something related to your service, product, or industry.
"Branded Conversations" spanned two, full days, so there is so much more that we covered that isn't included in this blog post.
If you want to learn how to improve your social media copywriting and content strategy, craft your buyer personas, generate fresh ideas, and design various types of content, join us at the next cycle of "Branded Conversations: Writing & Creating Content for Social Media Marketing" on June 24-25 at Queen's Hall. Get more info here >>
Comments
comments