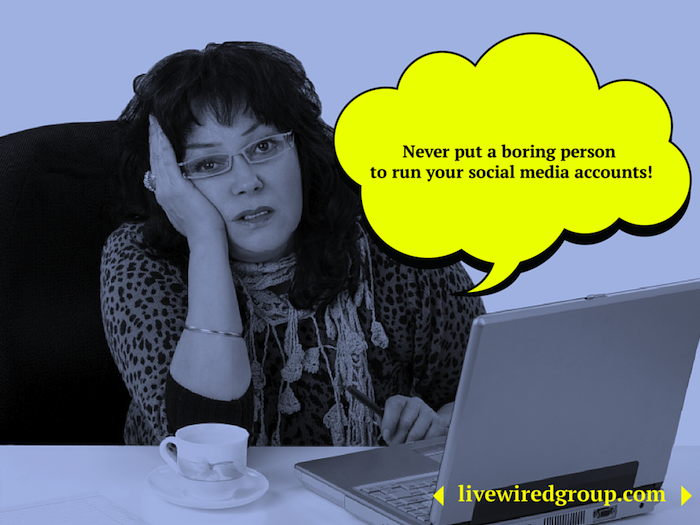 Marketing and corporate communications professionals have been producing content for years.
But are communicators in Trinidad and Tobago doing content marketing right?
Here are some ways to tell if you're on the wrong path… and some tips to get you back on track.
I could start off with the usual suspects, like asking people what they had for lunch, or posting random memes that don't mesh with your brand… But that would be too easy.
Let's tackle some serious issues.
1. Hiring a boring social media manager/admin.
Never put a boring person to run your social media accounts. 
A social media admin is like an actor, channelling your brand's personality to make people feel certain emotions and take action. A boring person, who can't communicate your brand's personality, is an Achilles heel.
2. Boring writing.
Corporate can be sexy! So why is most of the content we see still boring? Especially when great social media marketing needs great content?
Your writing and your brand's voice need to stand out. They need to make people feel something.
How?
Make them personable, helpful, and conversational.
Stop taking a Me, Me, Me approach, aka "my company is amazing". Instead, write, "Here's how you can achieve your goals with our product."
Social media marketing has forced communicators to improve their writing skills, so step up to the plate.
If you want to improve your writing, join our next "Branded Conversations" workshop, or business writing boot camp.
3. Hard selling.
"Pak choi! Five dollars a bundle!"
When you hard-sell people, you're the equivalent of market vendors, bawling at people, hoping that they buy from who's screaming the loudest.
We get that you need to meet your sales quota, but every post does not need to sell your product or service.
Post questions that drive engagement, and help you to understand prospects and customers. Give tips that make them appreciate you. That way, when you pitch a sale, they're more receptive.
4. Imitating competitors.
Can people 'feel' the difference between you and your competitors?
If I look at your Facebook page, another brand's page, and another, and another… and you all look and sound the same… you're not going to make an impact.
Show your personality. Find your voice. Decide if it's bolder and funnier than other brands in your category.
Post content that differentiates you.
Don't look like you're imitating your competitors. Customers don't know that isn't intentional, but it can look that way. Worse… visually… we can't tell you apart, at first glance.
For example, look at the two posts, below, from Lifestyle Motors T&T and Toyota T&T.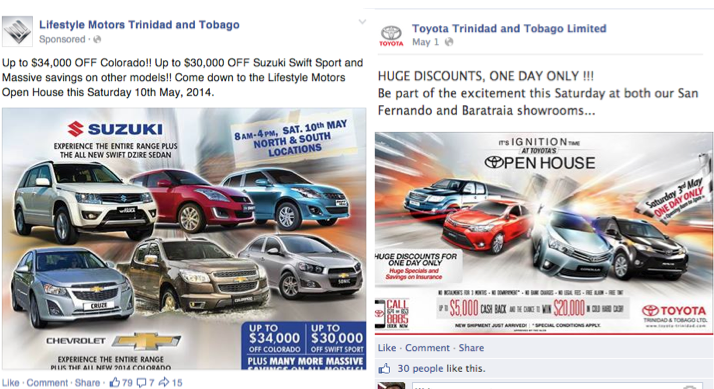 They look the same.
Every local, auto brand sounds and looks the same on Facebook! Why?
They have value propositions that set them apart. They have the opportunity to become trusted advisors to different audience segments.
Toyota T&T, for example, can take a peak at the Toyota USA page to see how they can better mix their posts.
5. Vague goals.
Do you know why you're using social media? If you can't answer that within ten seconds, or can only give a lazy "increase sales" response, stop reading right now! Go make some goals. SMART ones!
6. Not repackaging content.
Instead of copying and pasting your press release, dissect it.
Create information bites. Share them in different ways. For example, turn an article into a series of photo tips.
7. Not adding value.
Ask yourself:
Will this content meet my customers' needs?
Is it entertaining?
Is it educational?
8. No original content.
How can you engage the audiences you want to attract, if you don't create content specifically for them?
9. Poor visual content.
Please don't scrape images from Google, withhold credit, and… worse…. use poor-quality photos. It's shocking to see companies, who, as Trinis would say, "have plenty money", using poor images, or disrespecting copyright rules.
Do better! Buy photo stock. Create an infographic. Visit visual.ly and infogr.am for inspiration. You can also use canva.com to easily create graphics, and it's FREE!
10. Weak call to actions.
Will your CTAs compel someone to take the next step in their buyer journey? Consider people's interest levels and decision-making process, and match your CTAs to those stages.
11. Curating mismatched content.
Posting an article because Boom Champions posted it is not a smart curation strategy. Curate content that supports your objectives, and helps your community.
12. Abandoning your content.
Don't publish content once, and then forget it.
Republish your awesome series of infographics or blog posts. If they're good, people won't mind seeing them again… or discovering them for the first time. Isn't that the reason TV stations syndicate shows like "Friends", "NCIS", "Sex & the City", and "Moesha"?
13. Not planting measurement trackers.
Don't complain about ROI measurement, if you're not planting conversion trackers. Include a link in your social media posts, so you can track clickthroughs. Use Facebook conversions to track how people behave when they move from Facebook to your site. If you've got the budget, use tools like Hubspot or Kissmetrics. 
14. Being anti-social.
Staring at your Facebook page won't make engagement increase.
You've got to talk to people. Engage them in discussions about your latest video or blog post.
So…
Now that you know the sins to avoid, what's your next step?
Identify the sins you've been committing.
Repent of your sins.
Audit your content.
Start creating strategic content.
If you've got questions, ask away in the comments section. I'll respond.
Image via wearetrulyhappy.com + iStockphoto.com.
Comments
comments